---
---
Easy-to-Read Lessons
The online course material is
essentially the same
as what is given at our
3-hour live program.
The language is plain English, the course outline is clearly structured, and our online viewer is a breeze to navigate. The New Jersey-specific details are as up-to-date as possible. If you're looking for the New York edition of the course instead,
click here.
Hands-on Learning
We provide you with sample forms (an acknowledgment certificate, affidavit and more) to print out and follow along with the lessons in step-by-step fashion, as though you were actually sitting in the classroom.
Affordable
While typical seminars run from $75 to $175,
our online version is only $39.
"O.K.,"
you might say,
"That sounds fine — I will save money by taking the class online, even though I might prefer live classroom instruction. But how much are the mandatory State fees that I must pay to become a notary?"
Answer: Whether you choose the
traditional classroom format
or an
online option,
your official filing fees are minimal. There is a $25 fee payable to the N.J. State Treasurer, along with a $15 fee payable to your County Clerk when you get sworn in. Your New Jersey notary commission, i.e. license, will be good for FIVE years.
No Commercials!
We point you to sources of notary supplies, such as stamps, and services such as Notary Public Errors & Omissions Insurance, without "pushing" any products in particular. We give you straight talk about which product lines are preferred. You'll appreciate the practical, hands-on, "no-nonsense" teaching style.
Personalized Approach
The instructor begins his presentation by giving you his business card with full contact information, just as he does in the live classroom.
He is available to answer your questions via email, telephone, Skype or Zoom.

This means you get not only the written self-paced course materials, but also DIRECT ACCESS to a QUALIFIED INSTRUCTOR — all for only $39.
Please feel free to reach out. We enjoy hearing from our students, and we are interested in being a part of your success!
Enroll now.
---
About the Instructor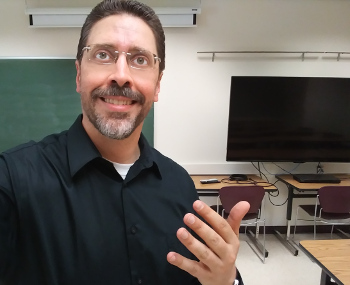 Steven E. Williams,
author of the online course, is a Notary Instructor within the SUNY system, member of the
American Society of Notaries
and experienced Mobile Notary and Notary Signing Agent. He is a commissioned notary public in the States of New York and New Jersey. Over the past 14 years, he has conducted Notary Public Seminars at Columbia-Greene Community College, Schenectady County Community College (Schenectady & Downtown Albany Campuses), SUNY Adirondack and The Knowledge Network as well as introductory and refresher courses for private groups upon request. As a witness-only Notary Signing Agent, Steven has processed hundreds of residential mortgage loan document packages on behalf of lenders, title companies and settlement agents since 2007. In addition, he is a licensed Insurance Broker (Property & Casualty as well as Life, Accident & Health) and formerly licensed Mortgage Loan Originator. His journey into notarial practice began with guidance from longtime instructors Viktor Bujanow and Nicholas A. Tulve. He is available to provide expert witness testimony, document review services and technical support in all matters relating to notarization.
---
| | |
| --- | --- |
| AVENEL, NJ Notary Seminar | CARTERET, NJ Notary Seminar |
| COLONIA, NJ Notary Seminar | CRANBURY, NJ Notary Seminar |
| DAYTON, NJ Notary Seminar | DUNELLEN, NJ Notary Seminar |
| EAST BRUNSWICK, NJ Notary Seminar | EDISON, NJ Notary Seminar |
| FORDS, NJ Notary Seminar | HELMETTA, NJ Notary Seminar |
| HIGHLAND PARK, NJ Notary Seminar | ISELIN, NJ Notary Seminar |
| KEASBEY, NJ Notary Seminar | KENDALL PARK, NJ Notary Seminar |
| METUCHEN, NJ Notary Seminar | MIDDLESEX, NJ Notary Seminar |
| MILLTOWN, NJ Notary Seminar | MONMOUTH JUNCTION, NJ Notary Seminar |
| MONROE TOWNSHIP, NJ Notary Seminar | NEW BRUNSWICK, NJ Notary Seminar |
| NORTH BRUNSWICK, NJ Notary Seminar | OLD BRIDGE, NJ Notary Seminar |
| PARLIN, NJ Notary Seminar | PERTH AMBOY, NJ Notary Seminar |
| PISCATAWAY, NJ Notary Seminar | PLAINSBORO, NJ Notary Seminar |
| PORT READING, NJ Notary Seminar | SAYREVILLE, NJ Notary Seminar |
| SEWAREN, NJ Notary Seminar | SOUTH AMBOY, NJ Notary Seminar |
| SOUTH PLAINFIELD, NJ Notary Seminar | SOUTH RIVER, NJ Notary Seminar |
| SPOTSWOOD, NJ Notary Seminar | WOODBRIDGE, NJ Notary Seminar |